Last week Forrester released the first New-Wave Report™ on Customer Data Platforms (CDPs). In the report, they evaluated 13 significant providers in the category. 
CaliberMind was included in the final report.
And, we're proud to announce that we were recognized as a "strong performer".
Don't get me wrong — we're really excited about it. And we're most excited about the opportunity to continue the journey we're on with our customers to deliver outcomes that matter to them.
But, you might be asking yourself "why should I care" about Customer Data Platforms?
And it's a valid question.
There is a lot of confusion in the space about how CDPs are helping companies grow revenue. Every company has a different spin on what's important.
We certainly do.
For us — it's the analytics, insights, and actions that give marketers the opportunity to impact outcomes in a positive way.
So, I took a few minutes to put a few detailed thoughts on why you should care.
#1 We're Drowning in Siloed Data and Tech Stacks
B2B marketers are swimming in data that often sits across point solutions across the entire revenue stack – from marketing, sales, to customer success. And they're spending way too much time and resources trying to wrangle this data and retrofit their current stack to make it work. This is especially challenging in trying to solve for cross channel problems like: Attribution, Engagement Measurement, Funnel Metrics, and Audience Segmentation.
Just take a look at all of the data and tech for a traditional B2B marketing and sales funnel:
#2 Marketers Know They Need a More Comprehensive Picture of Their Customers
In today's modern digitally driven cross channel and device world, the average B2B marketer is using at least 15 sources of data to build a much more comprehensive picture of their customers. This is driven out of a need and desire to paint a much more comprehensive picture of the customer journey – both at the contact and account level.
#3 CRMs Weren't Built For The Explosion of Data and Complexity
Over the past decade tracking customer data in a CRM was a fairly straightforward process. You had basic information like company name, address, phone number, main contacts and perhaps a listing of what each customer purchased.
But this doesn't provide the increasingly crucial picture of the entire customer journey that marketers need. Think about all of the data we're capturing across the journey: anonymous IP tracking, web analytics, 1st and 3rd party intent data, ad networks (LinkedIn, Google Ads, Facebook, Instagram, retargeting), emails, content, and events.
And that's just a view into the marketing data. Add in sales activity, product usage data, and customer success data – add you can see how a CRM just isn't sufficient for all of this data. In fact, that's why even Salesforce is investing in their own Customer Data Platform.
#4 A New Category is Created To Solve These Challenges
Enter Customer Data Platforms (CDP).
Forrester finds that the early returns are promising. Their evaluation shows that B2B marketers are using CDP capabilities to overcome their data management challenges and deliver better marketing results by integrating data silos, improving data quality, connecting anonymous and known behavior, and providing a more comprehensive view of buyer journeys.
#5 Best in Class Marketers Are Making CDPs Part Of Their Core Stacks
Here's our take on the different systems in your stack and what they were created to tackle:
CRM = System of Record
This is where you store your account and contact information and any transactional data for sales.


Marketing Automation = System of Engagement
This is where you launch email campaigns, build landing pages, track content, and score leads.


CDP = System of Intelligence
This powers the two systems above (and your entire marketing stack) with unified customer IDs across systems.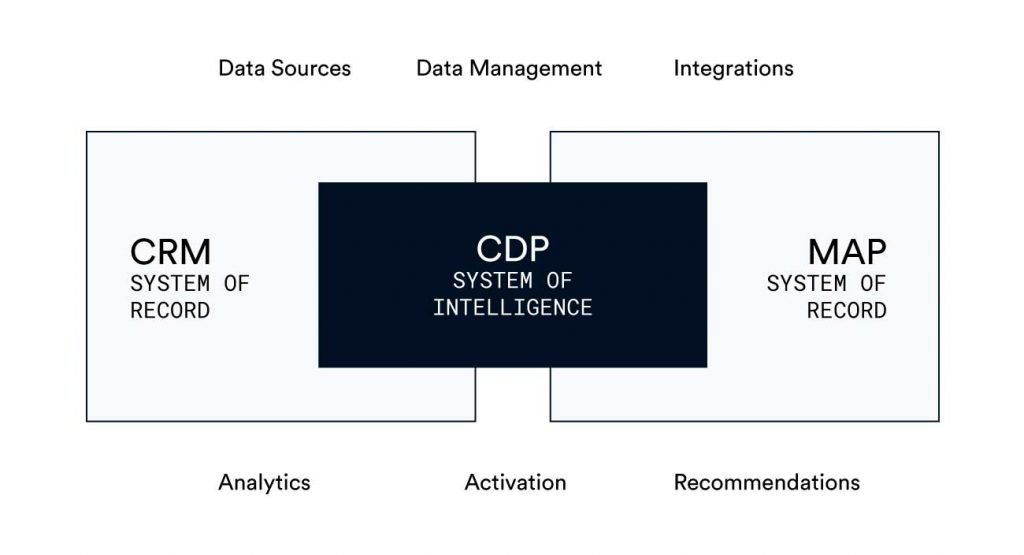 A CDP gives marketers the ability to effectively and efficiently deliver on a number of use cases: track the entire customer journey from anonymous to closed won; track detailed contact AND account engagement with your channels, programs, and content; marketing analytics – attribution, funnel metrics, Return on Marketing Investment (including the ever important ad spend).
#6 CDPs are Powering the New Vision of Marketing Analytics and Attribution
For example, the current approach and solutions to attribution haven't lived up to its promise. Most systems only see a portion of the customer journey – campaigns in your CRM or web generated leads. But again – marketers need to see the entire picture.
CDPs can solve this issue by seeing the entire journey for every contact and account and build attribution that follows that journey.
Because CDPs can see the entire customer journey, they can start to apply sophisticated models to fill out the entire marketing analytics suite – from attribution, engagement, funnel metrics, and ROI.
Here's how we think about it at CaliberMind:
#7 CDPs Can Uniquely Deliver on the Machine Learning and AI
Earlier this year, we released a new approach to attribution which we've labeled "Chain Based Attribution". At its core — it builds on the foundation and ability of our CDP to deliver a new way to look at attribution.
I detailed the approach in detail for Demand Gen Report and MarTech Today, but here's a quick look at how it's helping marketers make better decisions:
Chain-Based Attribution is built on top of a model Markov rooted in probability and statistics. Instead of reporting on "credit," as in a traditional MTA approach, it actually reports on contribution to revenue (or pipeline). And instead of being output-based (looking at clicks and downloads), CBA is outcome-based (looking at engagements tied to revenue). The model observes what your accounts do before converting, and what they do when they don't convert, to measure what's important.
If you're interested in diving deeper, we've created a guide and video series devoted to Chain-Based Attribution.
#8 Enterprise Marketing Team Uncovers Significant Revenue Influence with Attribution 3.0 (CDP Driven)
This is the story of how an enterprise stepped into a new era of attribution, multiplied its revenue contribution (with hard proof!), and forever changed its approach to customer data.
Our customer is a global B2B enterprise with revenue in the billions. Its attribution story is one that begins with hundreds of thousands of orphaned leads and ends with all of that customer data funneling into a fuller, more accurate picture of what its customers did and didn't do, who was involved, for how long, and to what end (read: Did they close?).
This enterprise effectively went from having little evidence or understanding of its marketing influence on pipeline (in the hundreds of millions) to proving influence on multiple billions. There's no magic to its approach; no gimmicks. Just a big step forward into the next stage of attribution.
We'll call it Attribution 3.0.